Welcome to
Tamarac PortfolioCenter Support
PortfolioCenter Three-Tier Network
Program Components
The PortfolioCenter program has three components:
Database: Holds stored data
Application: Processes data and report requests
User interface: Allows user to submit data and report requests and displays the results
Configuration

In this configuration, the components are distributed across the computers like this:
Database Server: Holds the database and SQL Server components
Application Server/Power User Workstation: Holds the application and service
Workstation: holds the user interface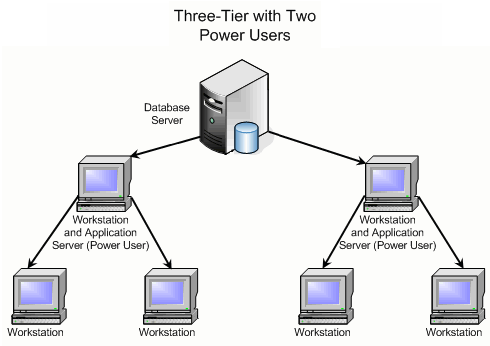 As shown in the chart above, the general rule of thumb is to have one application server or power user workstation for every three users.
For detailed setup instructions, click Installing PortfolioCenter.
Server: This computer has the PortfolioCenter database.
Application Server/Power User Workstation: This computer has the user interface as well as the ability to distribute application services.
Workstation: These computers hold the PortfolioCenter user interface.